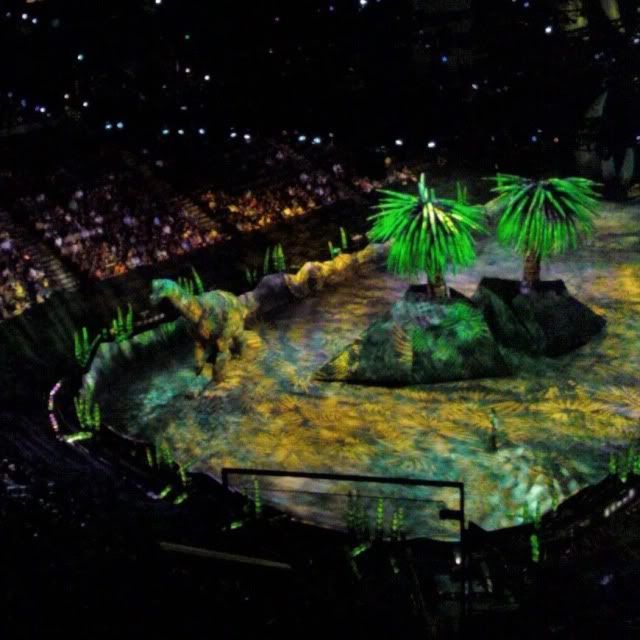 DD, the grandkids and I are back from a trip to visit my sister in Denver. While we were there, we went to the Walk with the Dinosaurs arena production. Wow, this show is fantastic. Tickets were rather pricey but well worth it. The only drawback was that we had been warned, despite the web site proclaiming amateur photography was allowed, that they were confiscating all cameras. So we left ours in the car and used our cell phones. (It turns out the warning was incorrect and we would have been able to take ours in. Bummer!) Needless to say, the resultant picture quality is B-A-A-A-D! There were some aaaah-dorable moments in the show and some laughter but mostly just an awesome time. Even though DGD Courtney protested that she didn't want to go, she quickly changed her mind and at the end she proclaimed it great!
We also went to the Celestial Seasonings tea factory in Boulder. It is a very nice (free) tour. The tour tickets were actually a tea packet. Ours were for True Bluberry Herbal tea which I think I will make up into iced tea since it is really too hot for hot tea. The gift shop had tons of different varieties of teas, tins, china, and other tea-related items. The gift shop is a MUST for a return trip, especially when I can figure out just which kind of green tea DH would like.
Another stop was the free tour at the Hammond Candy Factory. I didn't go with DD and the kids on this one but I will catch it at another time. The kids had fun and came home with some delectable sweets, including a pear candy cane for me and ribbon candy for their great-grandfather. I delivered that last night and he was very happy to get it. Ribbon candy is his favorite and is not easily found.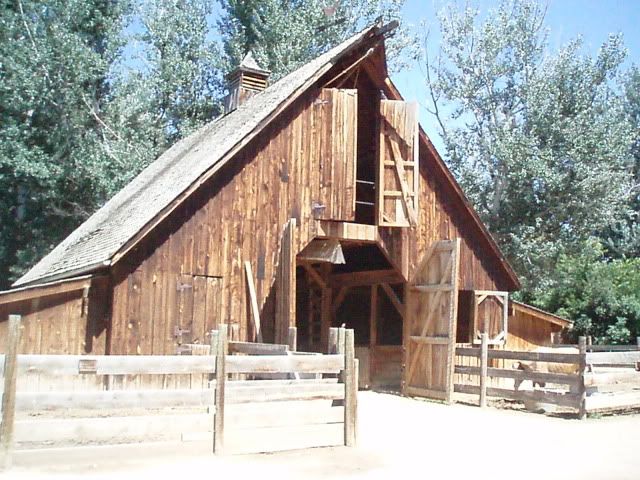 The last tour, another free one, was to the Littleton Historical Museum, which we combined with a picnic lunch. The museum includes two reproduction farms, one from 1860 and another from 1890. This barn is from the 1890 farm and DD declared it is THE barn she wants if she ever gets an acreage. DGD was certain that the cow that you can see inside the fence just to the right of the barn door was a horse! We saw cows, pigs, donkeys, sheep, chickens, turkeys, but NO horses. The smell of the hay inside the barn brought back very wonderful memories of the barn at my grandparents farm in South Dakota, which was established in 1840, according to my Dad.
Well, I can't wait to scrap this trip. The dinosaur pictures will be a challenge, I hope that DD's cell phone took better ones.