Sorry about the photos being cut off, I can't get them to resize, Click on the ones that are cut off and it sgould take you to my photobucket album.
On Saturday, October 29, my DH noticed that a feral cat had a new batch of kittens under our woodpile. By Sunday morning, she had moved all but the littlest one to a new location. By Sunday afternoon this poor little newborn - still had the umbilical cord attached - was crawling around in the garden, meowing for its momma who was nowhere around. Mean old momma cat!
It was only 60 degrees that afternoon and this little one was cold and hungry so I sent Bill to the pet store for a can of kitten milk and set out to care for this little baby. It has been a tiring, wonderful adventure with short nights and lots of time being one handed on the computer and one hand around a little kitty. We are now past the 4 week mark, still worrying about feeding enough, peeing enough and pooping!
My little kitty's head is showing in front of the black one.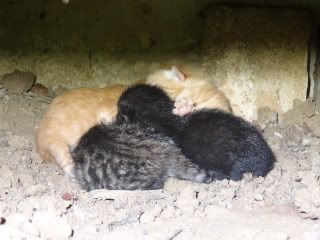 It's a gigantic hand or an itty-bitty kitten!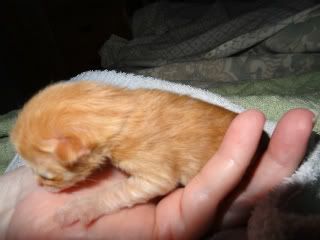 Heat source, just got it out of the kitten's box a few days ago. Kept the little thing nice and cozy warm.
Growing, eyes still closed. They opened Nov 7th.
This is one of my favorite pictures.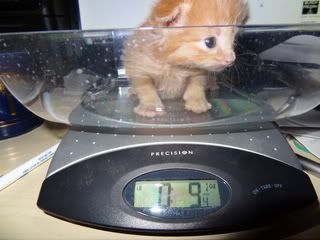 Bright eyed and fluffy!
What can I say! Cute picture.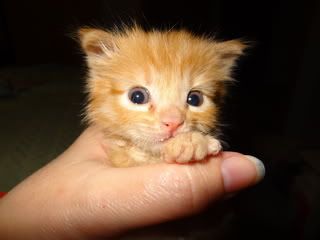 Courtney and the kitten. I like the matching curve to their foreheads and noses.
Kyle (you have to trust me, it is him) and the kitty 'high fiving'!
Gotto go, I am being meowed at!