Since becoming a consultant for CTMH, I have been busy making examples. I am not a very good scrapbooker so most of my better examples are cards. This one uses the May Stamp of the Month. I thought this image looked like she was kicking and I thought about the phrase 'Kick the Habit' and this card was born. I wish I could mass produce this and send to every woman who has made the fantastic effort to quit smoking.
I unfortunately needed a sympathy card recently and was able to use the verse from the May Constant Campaign "Tickled Pink." I also used the stamp set 'Intrinsic Backgrounds' and paper from the 'Emporium' line.









Here is another card using the May SOTM and a stamp from the 'Simple Stitches' set. The paper is from the 'Creative Basics Emporium Collection.'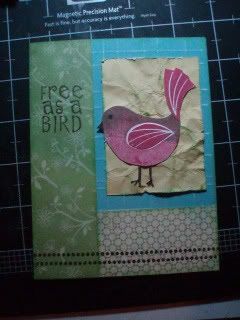 This card uses the 'Bird Basics' and 'Priceless Love Word Puzzle' stamp sets and 'Emporium' paper. I am not sure just what occasion it would be good for - perhaps a college graduation (don't want to give those High School grads any ideas - LOL) or a divorce finalization! Or maybe a retirement. Maybe for sending back a note from your vacation to that friend who is stuck at home.