These layouts are from the Tinkerin' Workshop on the Go. I was curious as to how these workshops worked and since DGS was in a robotics club this spring sememster, I KNEW that this was a set of papers and stamps that I would be buying anyway. I was so surpised to see how nicely these layouts went together. I think that if I could only get customers to do a WOTG once, they will come back time after time.
I know that
I
can't wait to do it again.
I didn't have the green ink to start with so I had to stop and wait for the MIB (man in brown = the UPS driver.) I was so impatient that I did start to put things together so random stamping the background paper was a bit tricky, but I got it done.
The second challenge with this LO was that DD took the pictures - of photos in the display window at the school - and they were pretty badly distorted. I had to finally break down and load PhotoShop Elements onto my computer. And then had to figure out how to undistort them. PhotoShop Elements is a bit more complex than Solitaire (!) so it took me a while. The photos are still not the best quality, but I still like these pages. Speedy was the name of the robot Kyle worked on. Kyle actually won one of the battles at the Robotics Competetion which included teams from as far away as Canada.
The second set of double LO's is from DGD's Kindergarten graduation. This little scamp is such a character when you point a camera at her.
She kept us informed of just when she would become a First Grader for weeks before the event. You wouldn't think that Tinkerin' would work well for a girl layout but the 'gears' seem to morph into sun shapes and make this paper work. The Stickease arrow 'You shine' seems to help with this illusion. Mom (DD Christi) gets the actual certificate of graduation and the cap and tassel (with the 2009 charm) but I got the best
picture and got the LO done first! I am thinking I will get the small Chocolate alphabet set for stamping the title.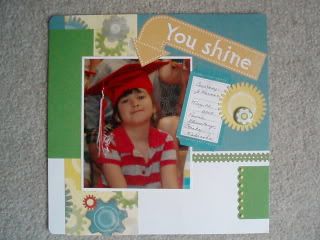 This is the third double LO in the workshop. I don't have pictures for this one yet, so some of the Stickease aren't permanently adhered yet. I haven't decided what pictures fit the 'together' theme, I am not sure I have anything yet - will have to sift through my piles. The photos go in a line across the first page with the final photo under the arrow point on the second page. Two more photos go on the blue/green block. Seven photos in all plus lots of space for journaling.
In addition to the 6 pages in the workshop, I have been able to, with the addition of a couple of sheets of Daisy White cardstock, make 8 (yes, 8) cards, that I will post later. There are still six full sheets of B&T left, four of which will work as bases for two more double LO's, and several big leftover pieces of B&T and lots of scraps. I really cannot believe how great a bargain a Level 2 paper pack, a package of My Stickease, a few other embel- lishments (in this case, the badge buttons, some brads, and some buttons - I used the red raffia instead), and a workshop guide can be!