One of the most fun things I get to do each month is hold a papercrafting workshop at an assisted living facility. Why is this so much fun? Because this is not a group to which I am trying to sell product, I get to use whatever I want for their cards and projects. This means I can use a teeny fraction of non-current CTMH product or paper from my seemingly endless non-CTMH stash. I can have anywhere from 4 to 10 ladies at these workshops and I am constantly amazed at how they can take one of my projects and give it their own twist, especially since I do most of the construction prior to the workshop so they only have to maybe stamp once or twice and paste. Here is the red, white and blue card and the patriotic banner that we did for June.
This birthday card was the first project for my ladies. I had assembled the blue and white card front for them from Moonstruck (retired) and White Daisy cardstock (item number 1385) using narrow strips that were left over from a previous month's project. The outside sentiment was stamped (Card Chatter - Birthday D1475) with White Daisy pigment ink (Z2163) and embossed with Clear Detail embossing powder (Z821). The inside sentiment is 'it's your BIRTHDAY' and the ladies got to stamp that themselves. Then all they had to do was paste the red frame on and attach the star wherever they chose.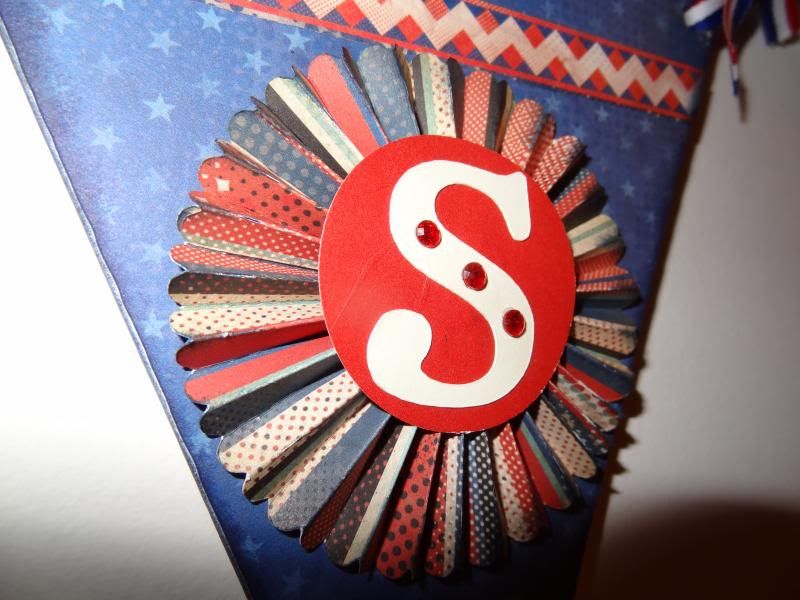 The second project was this banner and it was made with mostly retired CTMH product. The patterned paper is the bulk sheet from the Superheroes paper kit. One side was the stripes and the other was the blue with small stars. The red zig-zag strip across the blue banner is the zip strip. Under the 'S' is an accordian pleated rosette showing the striped side.
All this only used one 12x12.5 sheet of paper. One sheet goes a long way when there are two different yet coordinated 12x12 inch patterns and a 1/2 inch decorated strip besides There is a bit of (retired) Moonstruck cardstock and some current Cranberry cardstock (item number 1272) under the letters. I used the My Creations banner for the base which I was able to get from the discounted "While Supplies Last" section of my CTMH website
http://janiceschmidt.ctmh.com/Retail/Products.aspx?CatalogID=1702
. (This is a great place to get product at a great price. I like to check it out at least once a week to see what they have added.) The stars are cut from Kraft cardstock (Z1375.) For each star I cut two, one just a quarter inch smaller than the other using CTMH's Art Philosophy Cricut cartridge (Z1686.) I ran the larger star through a paper crimper and glued it to the smaller one to make it look like corrugated cardboard. Then I painted the stars with Create-A-Shade Pearl Paint (Z1039) and added Prisma Glitter (Z134). The ribbon tying the banners together and creating the hanging loops was from Michael's. I have to say my ladies LOVED this project!
I told the ladies that we would start Christmas cards in July and since our next workshop is the day after I get back from Convention I needed to get everything cut our and ready before I left. I am happy to say that I finished that with more than enough time to pack up the inks, tools, and supplies that I need in Florida with plenty of time to spare.